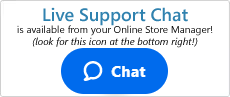 How do I update the Credit Card that Shift4Shop uses to bill me for service?
To update the card and/or billing information which you use to pay for your Shift4Shop service, please use the following steps:
Log into your Shift4Shop Online Store manager
Look towards the bottom of the left hand navigation menu and Click on the "$" icon at the very bottom
Then, click on the "Update Billing & Credit Card Information" button located at the top right of the page.
Fill out the form as needed and click "Submit" to set your new billing information.
---