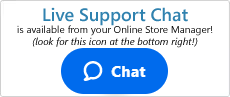 Best Practices for Password Management
In today's world, cybersecurity and safety is highly important. As such, you always want to ensure you are following the best practices when it comes to your passwords to guarantee your information is safe at all times.
Use Unique Passwords
You should always be using unique passwords across every account you use online. Using overlapping passwords creates more potential risk for account access. By using unique passwords, you help to ensure that in the event another account elsewhere is compromised, it will not affect your account with Shift4Shop (and likewise, accounts elsewhere). For further security, you may also want to consider making use of a password manager, such as BitWarden or 1Password. These allow for you to automate the password creation process and guarantee less predictable passwords.
Don't share passwords with anyone
You should never share your password with anyone else. By sharing credentials with others, you open up more holes in your own security. While you may trust someone, there's always the risk that they may be compromised in some fashion (whether it's via software or social means). Sharing credentials with others always leaves your own information at risk.
Update Frequently
Updating your password regularly is always best practice for security. Shift4Shop already requires you to change your password regularly, but for the sake of safety, doing so more often will offer even stronger protection. It is always a good idea to schedule regular password changes.
Make use of 2 Factor Authentication (2FA)
Shift4Shop supports the ability to use 2FA for merchant accounts. This adds an additional layer of security for logins, which helps to better protect your account. This is highly recommended for anyone who is conscious about security as it means the only way to login is by authenticating using another tool at all times. For more information, please read here.
Note
While not uniquely a password management related matter, you should also always ensure that you make use of an email address that only you can access for Shift4Shop accounts. The same goes for any Security Questions on your account. Keep this information private and unique to yourself only. This guarantees that certain information can only be accessed by you.
Additional Information
Please keep in mind that you will still need to adhere to password requirements for Administrators within the Store Manager:
8 to 12 characters
At least one CAPITAL letter
At least one lowercase letter
At least one number
No special characters
Failure to meet these requirements will result in an error and prevent you from creating a user. So please ensure your passwords are compliant.
---