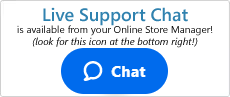 How do I Use the Colorado Retail Fee Feature?
On July 1, 2022, Colorado imposed a retail delivery fee on all deliveries by motor vehicle to a location in Colorado with at least one item of tangible personal property subject to state sales or use tax. Due to this, Shift4Shop has implemented a module to help merchants collect this fee from their customers.
To enable this feature, navigate to Settings > Payments in your Store Manager. On this page, you will find a section for Additional State Fees and you can click on the Setup State Fees button to access its settings.
Once on the Additional State Fees Settings page, you will see a section for Colorado Retail Delivery Fee with various fields. To enable or disable this feature, use the toggle switch to the top right of this area.
Settings
There are four areas you can modify to suit your business needs:
Fee Description
Allows for you to change the wording used for the fee for your customers. This displays on checkout pages and the invoice. It will default to CO Retail Delivery Fee.
Refundable
Toggle to control whether or not the fee is refundable.
Include e-Products
Allows for you to include or exclude e-Products from being considered for the delivery fee. This is recommended to leave disabled as digital products are exempt from this fee.
Apply only when Taxable
If enabled, the delivery fee will not be applied to products marked as non-taxable. If at least one product in the order is taxable, then the fee will be applied to the whole order.
NOTE:
If your order contains e-Products that are taxable along with physical products, the order will trigger a Delivery Fee. If you are using a store with a similar setup, you will need to mark e-Products as non-taxable if you wish to avoid this.
Once enabled, it will dynamically display this fee to customers who are based out of Colorado during the checkout process. On the checkout page, you will see the Fee Description displayed below the Subtotal.
NOTE:
If you are using a multiple page checkout for your store, you will see the Delivery Fee displayed as a separate line item instead of being below the Subtotal. It will function the same otherwise.
Customers will also see the Delivery Fee itself displayed as a line item in the Order Email alongside their other products.
NOTE:
Delivery Fees will also be recorded in your store's reports. It will be located in the Sales by State report. This will be under the heading Total Additional State Fees
---