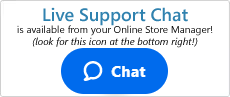 Can I Make Feature Requests for Shift4Shop?
Shift4Shop is always growing and implementing new features and integrations. Due to the nature of the platform, however, you may be looking for features we don't currently support. While we cannot guarantee any features will be added beyond what is currently on our roadmap, we do have a way for merchants to submit feature requests. Requests here can be voted on by other merchants and our team will review these requests internally. We do primarily look for features that we believe will benefit a majority of our merchants, so please keep that in mind.
To do so, first log into your Online Store Manager. Then, click on the What's New? link at the top of the screen. This will bring up a window that displays the changelog and highlights new additions.
In the changelog, select Feature Requests at the top. This will switch over to the Feature Requests tab.
In the Feature Requests tab, you will be able to make a request at the top using the Suggest a Feature button. In the form that displays, fill out the title, email address (optional), and any relevant details.
Any requests submitted using this form will show below. Here, other merchants can vote on requests, and leave comments as desired. These requests will be updated by Shift4Shop's team to show if these requests are under review, planned, or completed directly on here as well.
Important
Please note that you will need to ensure that you are logged into your Online Store Manager to be able to submit a Feature Request.
---