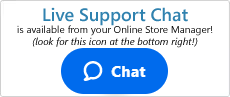 How Can I Send Support a Screenshot?
Our support ticketing system does not currently accept attachments on incoming tickets. However, sometimes your issue may require a screenshot to be included with your ticket.
If you need to submit a screenshot of your issue to our support team, we suggest providing a link to the image(s) instead.
While you can use online storage services like Dropbox and Screencast to upload your images, there's an even easier method you can use: your Shift4Shop Online Store Manager.
Simply upload the image to your store's file manager, click on the image after it has uploaded, and use the "Copy URL" link to copy its location.
Tip
Remember that the file manager isn't just limited to images. It can also accept ZIP and PDF files!
After copying the file's location, simply include the file's URL in your support ticket and we'll be able to see the image to assist you with your issues.
---