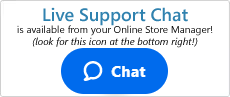 Which Online Ordering And Reservation Services Can I Link To My Webstore?
If you are using your Shift4Shop Online Store to run a restaurant or food service business, you can easily add third-party online reservation and ordering services by adding your service's URL via the Extra Pages feature.
The following is an example list of services that can be integrated via URL.
Tip
Please note that this is a partial list. If your service is not listed, it doesn't necessarily mean that it is not available for your webstore. As long as your online ordering or reservation service is accessible via a unique URL for your business, it can be added to your Shift4Shop store.
Online Ordering Services
Online Reservation Services
---