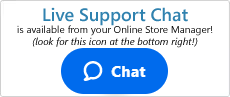 Why do I get "This site can't provide a secure connection" message on my domain?
This is due to recent browser updates which now force HTTPS.
In the past, if your store used a shared SSL certificate (registered to *.3dcartstores.com), entering your domain name in HTTPS mode would merely redirect to the shared URL and its secured certificate.
However, after recent browser and TLS updates, this redirect no longer functions. Instead, the redirect would only work if you manually type in your domain using regular HTTP mode - which would then redirect to HTTPS - using the secure shared URL.
To correct this, you will need to have a dedicated SSL certificate installed on your webstore site. There are many types of SSL Certificates to consider, with a variety of pricing points. For more information, please click here.
---