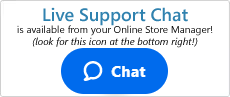 Knowledgebase
What is the "Declined" Status in my Online Store Manager?
Beginning with version 11.2.7, a new status labeled "Declined" has been added next to the "Not Completed" status in your store's Manage Orders page.
This status is actually a reproduction of the Not Completed status, but with a special filter applied to show declined orders and the declined messages as they are delivered from the gateway.
It is important to note that the decline messages are coming directly from the gateways. Some payment gateways offer more decline details and reasons than others. For more information, you should always double-check with the gateway itself for specific reasons.
---