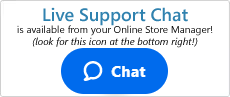 How can I update my Shift4 Payments Account Information?
Merchants on the End-to-End eCommerce plan using Shift4 Payments can now edit account information directly from the Shift4Shop Interface. This will help save you time as you will no longer need to contact Customer Service to make basic updates to your account.
Log into your Shift4Shop Admin Interface
Using the left hand navigation menu, go to Settings >Payment
Next, click on the "Select Payment Methods" button
When the page loads, look for your Shift4 Payment method.
Click on the "Account Maintenance" button
You'll be presented with two options:
---
Changing Your Bank Account on File
Important
Changing the bank account information is something that can only be performed by the authorized owner of the account. As such, you will be presented with several identity verification steps along the way to verify yourself as the account owner.
To change your Bank Account Information:
Click on the "Begin" button located to the right of "Change your bank account on file"
Enter the last 4 digits of your Social Security Number for verification and click on "Submit"
The system will locate your account information and pull up your info
Click "Begin" to proceed
You will then be given four Identity Verification questions to identify yourself.
Note
You will have 90-seconds to complete the questions.
Provide correct answers to the Identity Verification questions and click "Submit" to proceed
On the following page, review your current bank account information and enter your new information as needed.
Click on the "Submit" button to complete the update.
Your bank information is now updated.
---
Update Your Account Profile Information
**This feature/function is coming soon**
---