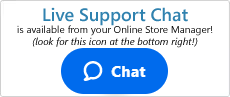 How do I view my Shift4 Payments Reports?
Use the following steps to view your Shift4 Payment transaction details.
Log into your Shift4Shop Store Manager
Using the left hand navigation menu, go to Reports >Shift4 Payments
You will see links for the following reports:
Transactions
Batches
Deposits
Processing Details
Each report will have a portion at the top that allows you to set the range of dates for the report details
You can use these filters to select either Date Presets (Today, Yesterday, Last 7 days, etc), or set a specific Date Range as needed.
---
Below are examples of the available reports you will see
Transactions
This report will display the payment transactions for the given time frame.
Batches
The Batches report will display your processed batches
Deposits
This report will display your processed deposits for the selected timeframe.
Processing Details
The processing details rerpot will display the following:
Note
To the left of each Batch Date is a small arrow. Clicking on this arrow will expand the selection to give you a more detailed view of that specific batch.
---