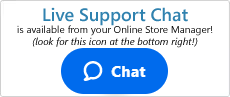 Why am I getting a "Checking your browser before accessing" message on my store?
Occasionally, you or a visitor to your site may see the following message when attempting to go to the site.
Typically, this message occurs when a specific user's connection is being diverted by the DDoS Protection services we employ.
Note
To be clear, the above message does not mean your site is blocked to all traffic, nor does it mean there is DDoS activity happening on the site. It only means that a specific user is being affected.
Furthermore, it is not blocking the user at all, but rather delaying their connection to the site.
If/when this occurs, please collect the following details and contact Shift4Shop support so we may have the server administrators fix this for you.
Your connection's IP address
Go to https://www.whatismyip.com/ to copy both your IPv4 and IPv6 IPs
(Or ask your affected visitor to do so if they are able to)
The URL of your store where the message appeared
Typically, it will be the store's homepage, but if it happens on a specific page, that would be useful information as well.
The connection's Country of Origin
This is specifically for when the issue is happening to your visitor.
When you gather this information, please call or open a ticket with support so we may get this to the server administrators and make adjustments.
---