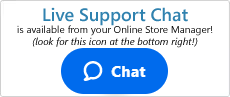 Why Am I Seeing Numbers In The Company Field For My Orders?
Issue: An order is placed but the Company Field contains numbers instead of an actual Company Name
Cause: This is most likely being caused by the shopper's browser auto-fill.
Typically, a customer browser's auto-fill will record information entered into a form and then automatically enter that same information on a different form for the user. Most forms follow the same flow of information to enter including email, first name, last name, address, etc. However, every once in a while the customer may have entered information into a form that also includes Date of Birth. So if they're careless and rely solely on auto-fill to populate the fields for them, they inadvertently add their birth date/year to a field such as the company field.
Rest assured that this is simply due to user-error/carelessness and not something malicious.
---