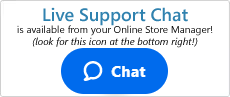 Update: Ending Support for Legacy Functions
Update: Ending Support for Legacy Functions
On 12/31/2020, we will be ending support for the following Legacy Functions.
Legacy Admin Interface
SmarterStats
HTML5 Templates
We are committed to offering our merchants the best that eCommerce technology has to offer, which is why we had introduced the new admin interface in 2015 and Core themes in 2017. Thousands of merchants have already made the switch to our new admin & Core themes and are enjoying the most-updated version of our software. We encourage all of our merchants to do the same to take advantage of everything Shift4Shop has to offer.
With this new update, we will be discontinuing support specifically for HTML5 templates, the Legacy Admin interface and the SmarterStats statistical analysis tool. No Shift4Shop features are being affected or discontinued.
Why are we discontinuing support?
Legacy Admin
After implementing our new admin interface, the Legacy Admin interface has not been supported for quite some time, meaning no new updates to the software have been ported to it. Our new admin interface comes with every new feature that we implement to our software.
Once the deadline has passed, merchants can still use the Legacy admin. However, if merchants run into any bugs, we will not be able to fix them. Additionally, the legacy admin may stop working on new versions of web browsers, which we will not offer updates for. Customization services and new features will also be unavailable on the legacy admin interface.
SmarterStats
The analytical data provided by SmarterStats was originally intended to monitor and report on incoming traffic to your online store. This was helpful in providing "Who and Where" data on your site's visitors, as well as helping to report on the store's bandwidth usage.
In 2018, Shift4Shop plans no longer came with bandwidth usage limits, and Google Analytics has long since become the industry standard for traffic analysis. Therefore, as of the 12/31/20 deadline, SmarterStats will no longer be available.
HTML5 Templates
After the launch of our Core themes, HTML5 templates have also not been available. This is because we now offer Core themes built on the bootstrap framework, which is the current industry standard due to its efficiency and effectiveness for SEO.
After the deadline, merchants using an HTML5 theme can still use that template, but any new features introduced to Shift4Shop will not be added. Additionally, we will not be able to support or fix any issues merchants may run into with their theme. This will also apply to any merchants using HTML4 themes, which were replaced by HTML5 themes in 2013.
---
For Merchants with Older Templates
If you're using an HTML4 or HTML5 template for your website, you will have two options:
Change to a Core Theme.
We currently offer over 100 Core themes to choose from that will be fully supported and constantly updated.
To learn how to change your theme, follow the instructions in this Knowledge Base article.
Continue using the template.
If you choose to keep using your HTML5 template, nothing about your site will change. However, there will be no new features released for the template and we will not be able to support any issues on that theme.
Note
"HTML5" in this update refers to our previous series of templates, which we named "HTML5 templates."
We are not referring to the markup language, as HTML5 is still the current version of HTML as a coding language.
For Merchants with the Legacy Admin Interface
While no merchant will be forced to switch, we encourage Legacy admin users to use the new admin interface. If you're currently using the Legacy Admin interface, here's how to switch:
Log out of your Online Store Manager
At the top of the login page will be a banner stating "You are currently in the Legacy Admin Interface."
Click the green button that states "Switch to the New Admin Interface" to switch.
You will then be taken to the new login page. Once you log in, you'll be greeted with the new interface.
Note
You will only see these options if you have a Legacy account.
Please note that after the deadline, we will not be able to support any issues with your Legacy admin or HTML5 theme. If you have any questions or need help with these changes, don't hesitate to contact our technical support team before the deadline. We're available 24/7/365 to help you make the switch. Thank you for being a Shift4Shop customer!
---