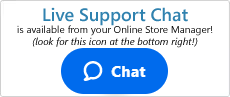 How do I add Vantiv to my store?
The Vantiv Payment gateway can be easily added to your store by following these steps.
Log into your Shift4Shop Online Store Manager.
Using the left hand navigation menu, go to Settings >Payment
Click the "Select Payment" button under the Payment Methods section.
At the top right of the page, click on the "+Add New" button.
In the Add New Payment Type section, select the country and state you would like this payment method made available to.
In the "Payment Method" drop down menu, select Vantiv
(tip: they are listed alphabetically)
Enter the minimum and maximum value orders can be to use this payment method.
Select the customer group you would like this payment method applicable to.
Then click on the "+Add" button to continue
These steps will have created the payment method, but you will have additional settings that can be further configured.
Locate your newly created Vantiv Payment method on the list of Payment methods.
(It will be listed under "Additional Gateways" in the middle of the page.)
Click on the "Settings" link to the far right of it
Once there, you will see the following settings to configure for the integration:
Test Mode
Marking this checkbox will enable Vantiv while using their test servers. this will allow you to place test orders on your site without actually charging.
When you are ready to fully use Vantiv for real orders, make sure to uncheck this box.
Caption
Edit the caption for this payment method that you would like to see displayed for your visitors.
Typically, this will read "Online Credit Card" and it will appear to your customers on the store front in this fashion.
Merchant ID
Use this field to enter your Vantiv account's Merchant ID information.
(Note: This information is provided to you by Vantiv)
Save the customer information for future transactions
If your Vantiv account allows for tokenization, this checkbox will tokenize the customer's billing information for later purchases.
This can also be useful for Shift4Shop's Recurring Orders Add-On.
(Note: The tokenization option may incur additional charges from Vantiv)
Authorize Only
Use this checkbox if you would like to authorize the total amount on the card but not collect payment until later.
(Note: click here for more information on Authorize Only)
Directly beneath these settings, you will also see an "Advanced Settings" button. Clicking this button will gove you the following configuration options:
Order Amount Min; & Order Amount Max:
These were set during the initial creation of the payment method (see step 6 above). Here you can edit them as needed.
Customer Group:
This was set during the initial creation of the method (See step 7 above). Here you can edit the setting as needed.


"All"
will make the method available to all of your shoppers - regardless of the pricing group they belong to.
"None"
will make the method available to shoppers who do not yet belong to a customer group
"Phone Orders"
will make the method available only when using the Phone Orders function.
Individual Group
Or you may limit the use of the payment method so that it applies only to one of your existing customer groups

Order Status
This setting will determine which order status that orders using this method will automatically go into. Your choices are New or Unpaid.
Since it is an online payment method, you will likley want it to go to new, since payment is typically applied by the gateway.
Country/State Exclude List
When you initially added the payment method, you set the country and state that it would apply to (See step 4 above)
With the "Edit Exclude List" link, you can further limit which countries and/or states that are excluded from using the method.
Confirmation message
This will display to the customer once the purchase has been completed – Example: Thank you for your purchase!
Description
This is Optional. The description will display next to the payment method – Example: Check out Securely with our Payment Service.
Once your advanced settings are configured, click the "OK" button to set them. After clicking "OK" you'll once again be at the payment module. Your final step is to save your changes.
Click "Save" at the top right to commit your changes.
---