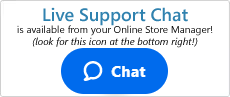 What is the response URL for the PayULatAm Gateway?
If you are using the PayULatAm Gateway for your Shift4Shop store, you will need to specify a response URL within your PayULatAm settings to ensure transactions are completed properly.
The response URL is as follows:
https://[your-secure-3dcart-url]/paymentreceive.asp?gw=payulatam
Be sure to use the secure URL for your Shift4Shop store.
---